The current position and performances of the duo of Manchester United and Manchester City is a clear indication that the 2017/2018 title is Manchester-bound. United and City have shown that they have what it takes to win the title and if possible, winning it through goal-difference may just be the last resort.
Manchester City Flourish Without Aguero
The news of the absence of Sergio Aguero after Mendy was announced to be out till end of season may have been good news to both Chelsea and Manchester United. Chelsea would believe that the risk of having the Argentine would be curtailed, after the striker recorded six goals from six premier league games, but it did not affect the performance of City. Guardiola's men lived up to expectation with De Bruyne, Leroy Sane, Gabriel Jesus and Raheem Sterling living up to expectation and keeping the blues defence busy for 90 minutes after which De Bruyne netted the winning goal.
On the hand, Manchester United who had earlier thrashed Crystal Palace 4-0 would probably be expecting that their neighbour (City) would encounter a difficult situation without Aguero. They also had expected that the defending champions (Chelsea) would give City a good fight at the Stamford Bridge and maybe end the game in a draw, but City triumphed after De Bruyne's 67th minutes goal made the difference, sending Manchester City to the top of the table back while United trail on goal-difference.
Manchester United 4-0 Win Sustains Palace's Goal-Drought
Manchester United beat Palace 4-0 to move to the top temporarily before City's win over Chelsea, they at least proved to the world that Crystal Palace's dream of getting their first ever premier league goal this season did not materialize while playing against them.
Mourinho's men have shown that they are key title contenders and would continue winning to ensure that they lift the premier league title, but they have also shown that goal-difference may not favour them if the situation continues in this manner against City, they probably needed at least a 6-0 win over Crystal Palace to remain on top before the international break, but City who had piled up enough goals in previous matches just got a 10- win and returned to the top of the premier league table.
Manchester United Are Yet To Face Any of The Big Teams
Though Manchester United are trailing City on goal-difference, the difference in the two teams is that United are yet to play any of the "top four". United' have so far played against West Ham 4-0(H), Swansea City 4-0 (A), Leicester City 2-0 (H), Stoke City 2-2 (A), Everton 4-0 (H), Southampton 1-0 (A) and Crystal Palace 4-0 (H).
City on the other hand have at least played against two of the "top fours", Liverpool 5-0 (H) and Chelsea 1-0 (A), recording victories in the games and promising to sustain same game approach when they meet the remaining.
Manchester City's Significant Wins Against Chelsea And Liverpool
The most significant thing about City's wins against the duo of Liverpool and Chelsea this season is that City did not get any win against these two teams last season. City's best result against these two teams in their home and away meeting was one point, they lost on home and away basis to Chelsea last season, while Liverpool beat them at home and City managed a 1-1 draw against Liverpool at Etihad stadium.
Though City lost eleven points to the the duo of Chelsea and Liverpool last season, its however a different story entirely this season. Getting six points from the maximum six points in their first meetings this season is a clear indication that City are ready for the title and can only be challenged by United.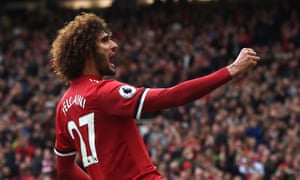 Going by the results of the last seven matches, it is obvious that City and United have entered a realm different from where the remaining 18 teams are operating. They are five points clear-off Tottenham who happens to be the closest team to them, and are six points clear-off defending champions Chelsea who last lost to City at Stamford Bridge.
Both teams have won six of their premier league matches, and have also recorded one draw each which gives them 19 points each and keeps them in a distance that makes it look as if they may decide their fate come December when both teams first meet at Old Trafford Stadium.
Winning is essential to both teams, and they seem to have done what is practically necessary to win the premier league during the July summer transfer window, spending heavily and still hoping to buy more if need be, with the owners of the two clubs having so much confidence in the two managers who have become arch-rivals since their first meeting in Spain.